This week on the web, new movies, Glee, and all things Pop culture seem to be the topics of interest to the world of comedy. From Weird Al Yankovick's internet win, to Matthew Morrison's team up with the Funny or Die crew.
UCB Comedy – An Actual Zookeeper Responds to the Movie "Zookeeper"(link)
In the wake of the up coming Kevin James movie 'Zoo Keeper' an actual Zoo Keeper sounds off on the vast inaccuracies of this movie about a man who gets paid $20,000 annually to pick up zebra crap, and also has to live with the horror of being Kevin James.
NatalieDee
And now a quick web comic break form one of our favorite online single panels.
Sorry nerds, the cake is a lie.
Youtube – Perform This Way (Parody of "Born This Way" by Lady Gaga) alyankovicVEVO (link)
The Parody master is back, and he's the top of the charts. After having his original version of this song yanked by the record companies, Lady Gaga herself gave Al permission to do a video for the parody song, saying that she felt being parodied by the master was something that any pop star should feel honored about.
XKCD Web Comic – ICE
XKCD is probably the master of stick figures, and this dyslexic take on the old urban legend of kidney thief's is perfect example of what puts XKCD on the map time and time again.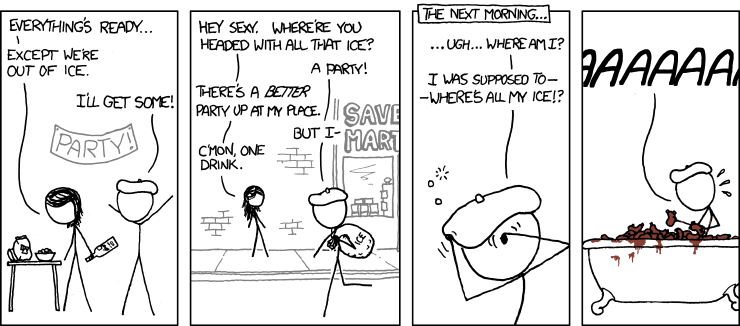 Funny Or Die – The Matthew Morrison Story (link)
The FoD crew jumps on the GLEE "band" Wagon (I'd say no pun intenedid, but without that pun, this blurb would have about as many humourous moments as this video does… which is exactly none.) But it's a GLEEK'ers wet dream (which I assume they have many of)
That's what's funny on the big wigs of comedy this week. For better or for worse.
Moar Videos
Want more stuff to watch? Check out my Feature Friday video suggestions (if you missed last week's check it out here)
See all the videos I've mentioned in one location here