Today on the web, we've got some videos that could be horribly offensive to people that love God, Steve Jobs and even more daring Bill Cosby. All three plus more get poked fun at, but for the most part I think it's the Frankenstein Cat that takes the biggest beating. Check out what's trending in the webs world of videos so you don't get left behind!
Dailymotion – Ben and Burman : Find God (link)
Ben and Burman, the web's version of the Odd Couple, find themselves in an even odder position when God (the one that created the entire universe and junk) moves in with them… Making them, the even odder couple… triple.
The guys find out that maybe they can see past their differences, be the friends they really are and instead find something to hate together!
Break – Frankenstein Cat (link)
Just in time for the impending holiday, Halloween (if you're not paying attention), this video title 'Frankenstein Cat' comes to us. It features what appears to be your average, every day orange tabby just chilling until something freaks him out… and then it gets weird. We tried to slow it down to look for wires, a hand, a prosthetic shooting up the cats butt… but alas we're stumped at just what's going on. Perhaps this is actually how the cat reacts.
We ask you: is Fake or Real?! (leave a comment below)
Atom Films – Stretched (link)
When two guys inherit a limo, they decide to make good on the lemons life has thrown them and start taking passengers. They hit the jack pot when their first customer is none other than rapper Too $hort. (which is awesome, cause they have a hip hop demo tape.) However they soon find out that the rapper lifestyle is not something they won't to be a part of.
Created by Selwyn Brothers
Starring Zach Selwyn, Eli Braden, and Too $hort
Youtube – The New iPhone 4s (Parody) (link)
Vlogs have been taking over on youtube, and worst yet vlogs simply about other things people found on other websites. So it's a pleasure to see this video by jacksfilms come about, in a parody about the release of the iPhone 4s (#iPhone4Steve4ever) . It's a quick parody commercial and thankfully stays far enough away from the recent events to stay tasteful. Kudos.
WebComics
Comics Time! Sit back and relax to the greatest use of the internet ever. Single panel comics!
Today on xkcd : Eternal Flame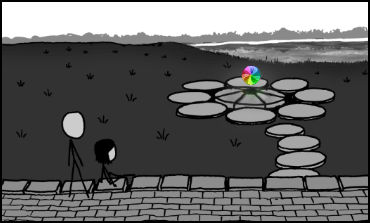 Today on Toothpaste For Dinner: you got the money
Today on Married To The Sea: gifts for the baby
gifts-for-the-baby.gif
Funny Or Die – BillCosby Bukowski Part 2 (link)
Jon Daly makes a memorable character mash up with BillCosby Bukowski, presenting his own brand of Jell-oems Though I personally am more amuse by the awesome powers of the wig he's wearing than the Jell-oem recites, which is titled "The Most F'able Huxtable".
So if we've all learned something, it's that God's a dweeb, Cats are pure evil magic, Too Short is too loco, and Job Daly has magi hair. All in all a good day for the world of web video. Now as I sit here at a café I must bid you goodbye, as I eves drop on this 35 year old balding man trying to pick up the 19 year old blonde model sitting two tables away. Go creepy dude go! We believe in you! (not)