Manchester United fought off Fulham last night (March 26) in order to reclaim their spot at the top of the league from Manchester City, but their victory is one that will surely leave a bitter taste in the mouths of both Fulham and City fans.
Rooney put the home squad ahead by 1-0 in the 42nd minute, but a clear penalty decision should have been made after Michael Carrick clipped the foot of substitute Danny Murphy inside the box. United boss Sir Alex Ferguson agreed that Carrick should have been penalised for the incident, saying: "Yes, Michael tapped their player's heel and they had a good claim, [but] he ref was lenient also in the first half when we should have had a penalty for handball. Maybe the ref was thinking about that."
Fulham manager Martin Jol also agreed that his team were cheated out of what could have been a late equaliser, saying: "We expected a penalty to be given but it takes a very brave referee to give one against United at Old Trafford. This isn't the first time, especially not for me.
"Everyone in the stadium expected a penalty and the ref would have had to send Carrick off. We could have shocked them, they looked very nervous."
Referee Michael Oliver's decision to not give Fulham the penalty could prove to be a pivotal moment in the race for the Premiership trophy, as United have now once again reclaimed their spot atop the league by a full three points. The fact that they struggled to snag those three points from Fulham, a club with the worst away record in the Premier League, will have fans hoping that this doesn't indicate complacency on behalf of the red devils.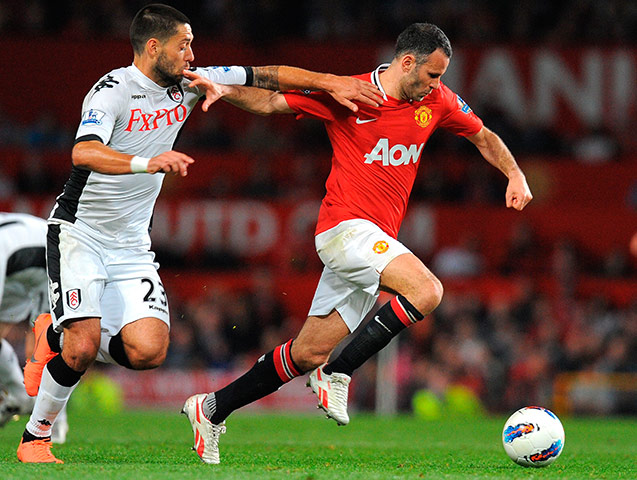 Midfielder Ryan Giggs acknowledged the squad's sloppy play in a post-match interview, saying: "If we'd scored in the last minute, everyone would be euphoric and buzzing but obviously, the way the game ended, with some sloppy play and not keeping the ball, everyone's a bit disappointed. Rightly so because we know what we're capable of but, overall, we're pleased to get the three points."
However, he also stated that with just eight games to go the club would happily "take 1-0s to the end of the season" in order to "finish the job off" with rivals City.
"As a footballer, you want to enjoy these times and you want to be involved in title chases and games like tonight," he added. "I'm sure there will be more twists and turns to come."
Photo: Getty Images