Although Harry Redknapp was the keen favourite to supercede Fabio Capello in the role of England manager, the FA made the shock announcement yesterday (April 29) that it would be West Bromwich Albion manager Roy Hodgson whom they would approach for the position.
Redknapp, who has commandeered Tottenham Hotspurs into Premier League top 4 this season, has found himself beaten to the England national squad throne by Baggies boss Hodgson, who just 16 months ago found himself sacked from his job at Liverpool following a poor run of form and an immense fan backlash, which Hodgson blamed partially for the club's shortcomings.
Now he yet again faces criticism from supporters, as Redknapp was the most popular choice for the position and many deem Hodgson to be underskilled for the role of coaching a big international squad.
However, Redknapp wished Hodgson well in his potential new job, saying: "Good luck to Roy. Everyone else was saying I might get it but I never spoke to Daniel Levy (Spurs chairman) about England."
He's a great guy. I've got a great job here (at Spurs). I don't hold grudges. I've woken up in a great mood today on the back of a great win yesterday (April 29). I will be concentrating on Tottenham as I have done all along."
Speaking earlier this season, Hodgson had already made it known that he was aware that there may be a backlash from supporters if he were to be considered for the role of England coach, saying: 'I don't think the Liverpool people thought I was a particularly bad manager, they just wanted somebody else. So having taken on a job in the face of public opinion, I suppose I wouldn't want to do it again.
"I would rather hope that, if I was ever going to be offered the England job, it would be with the backing of the important people, and that would of course be the people like yourselves, who represent the fans, and the fans themselves of course. Otherwise, it's going to be a very difficult job for anyone who takes it.
"Because even if you've got the competence, even if you are the right person, you need to be perceived as the right person, and the perception of my Liverpool appointment was not right and as a result, of course, you end up paying for it."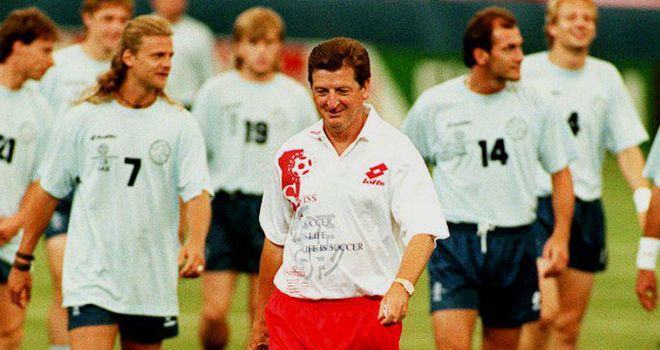 Redknapp's huge backing to be offered the job is perhaps more to do with likeability than anything as he has no international experience as a manager, whereas Hodgson led Switzerland to the last 16 of the 1994 World Cup and the qualifying rounds of Euro 1996, even though they had not qualified for a major tournament since the 1960s. He also coached Finland to their highest FIFA rating of 33rd, and has acted as a UEFA spy for the past 16 years, attending all European Championships and compiling dossiers on each squad. He was once quoted as saying: "I enjoy international football because you are working with the best players.
"I'm a great admirer of the England team, (being the England coach) is the most important English football job in the country. We have the players, we always have had. I don't think any job is impossible.
"We work in a league where football of a very high quality is played and produce players most people would regard as top European standard."
Hodgson will be interviewed today (April 30) by the FA for the position and is expected to take the job, with his contract with West Brom expiring this season, with West Brom chairman Jeremy Peace wishing him well, saying: "Roy has done a fantastic job over the past 15 months.
"Roy is a proud Englishman and we can understand why he wants to speak to the FA about this highly prestigious managerial position."